About Us
Elizabeth J. Unni, PhD, MBA
Chair, Social, Behavioral and Administrative Sciences
Founding Director, PharmD/MBA Collaborative Pathway Program
Director, Health Disparities and Outcomes Research Fellowship
Co-Director, Academic Fellowship Program
Associate Director, Center of Excellence
Associate Professor
Department of Social, Behavioral and Administrative Sciences
Touro College of Pharmacy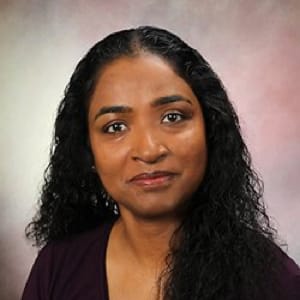 Contact
646-981-4724

3 Times Square, Suite 836 New York, NY 10036
Biography
In addition to her primary role as Chair of the Department of Social, Behavioral, and Administrative Sciences, Elizabeth Unni leads several post graduate programs at our College of Pharmacy including the PharmD/MBA Collaborative Program and the Leadership Certificate Program for the PGY-2 residents and fellows.
Following completion of her pharmacy education, Dr. Unni received her Master's in Business Administration from the University of Louisiana at Monroe, and her PhD in Pharmaceutical Socioeconomics from the University of Iowa. She has substantial experience in teaching pharmacy students on the various social and behavioral aspects of pharmacy. Her research expertise is on patients' self-management of chronic diseases, with a focus on medication adherence.
Dr. Unni is an active member of various academies including American Association of Colleges of Pharmacy, American Pharmacist Association, International Society of Quality of Life, Academy of Communication in HealthCare, and the Society of Behavioral Medicine.
Education
PhD in Pharmaceutical Socioeconomics, University of Iowa at Iowa City, IA May 2008
Master's in Business Administration, University of Louisiana at Monroe, LA May 2003
Bachelor of Pharmacy, College of Pharmaceutical Sciences, Manipal, India Jan 1998
Honors and Awards
Cohort 20 AACP Academic Leadership Fellows Program (ALFP) for 2023 – 2024
Class of 2023 Touro College Academy of Leadership and Management (TCALM) Cohort
May 2022 – Received the Touro College of Pharmacy Researcher of the Year Award.
July 2019 – Received the Scholarship of CPE Award from American Association of Colleges of Pharmacy CPD SIG for the paper titled "Implementation of a Continuing Professional Development Course in a Longitudinal Didactic Curriculum for Pharmacy Students" which was published in AJPE
2019 – 2020 – Society of Behavioral Medicine Leadership Institute Fellow
2008 Rho Chi Pharmaceutical Honor Society
2003 Beta Gamma Sigma Academic Society
Research
Elizabeth's research interest is in health services and include medication non-adherence, patient's beliefs in their medicines and illnesses, health literacy, and self-efficacy. Her interest lies in developing theoretical models that explain medication non-adherence based on the various psychosocial variables that define medication adherence. She has also developed a self-reported scale to measure medication adherence, the Medication Adherence Reasons Scale (MAR-Scale). As an academician, she also has interest in the Scholarship of Teaching and Learning. Elizabeth believes in collaborative research and has conducted research with academicians from several Universities and researchers from pharmaceutical industry and consulting.
Professional Service
Dr. Unni holds several leadership positions with these organizations
Member of International Society of Quality of Life (ISOQOL)
American Pharmacist's Association (APhA)
American Association of Colleges of Pharmacy (AACP)
Currently, she is a Leadership fellow with the Society of Behavioral Medicine
Hobbies
Traveling and reading.